Better Performance
Music At Your Ease
Get rid of duplicates and fix your entire music library instantly using Duplicate Music Fixer. A duplicate free music collection means you can enjoy music without repeat.
Advanced Scanning Algorithm
It uses advanced algorithms to identify and remove duplicate songs from your collection.
Simple And Easy To Use
Add any folder to analyse duplicate music files and leave rest to Duplicate Music Fixer.
Exclusion List
Exclude folders you do not wish to scan or use in comparison by adding to exclusion list.
Managed Media Library
Compares music files of various formats to clean them for a managed media library.
Free Download

Cleaner PC
Free Up Storage Space
By deleting duplicate or similar music files, you will be able to free up space and get rid of any storage space full messages on your Mac.
Add Multiple Folders
No limit on number of files you can scan, add multiple folders to scan for duplicate audio files.
Create Organized Playlists
Delete duplicate songs and create album-wise playlists to never miss on your favourite songs.
Restore Space
Add, scan and clean thousands of duplicate audio files in to make room for important data.
Export Duplicate List
Get detailed summary of deleted duplicate music files to know how much disk space is saved.
Free Download

Easy Selection
Easy Duplicate Cleaning
Eliminate duplicate music files, to enjoy music without annoyances. Duplicate Music Fixer has all the tools to provide you with a neat and organized music library.
Preview Scanned Files
Preview scan results, metadata of the file and decide which duplicate audio file to delete.
Auto-Mark & Delete
Quickly remove detected duplicates with Auto-Mark followed by 'Delete Selected Items'.
One Click Scan
Once you have added folder to scan, click on Scan For Duplicates to find duplicate audio files.
No Music Repeats
Enjoy listening to your music collection without song repetitions and cluttered disk space.
Free Download

Better Music
Retain Highest Quality Audio
Scans and removes duplicate music files in lower quality thereby retaining highest quality audio files automatically for the ultimate listening experience.
Create Playlists
Create duplicate free playlist so you can listen to your music collection without reiteration.
Customize Auto Marking For Duplicate
Create criteria in Selection Assistant to retain best file based on bitrate, file size etc.
Filter Scan Results
Filter duplicate audio files by bit rate, preferred folder option, file format, file size etc.
Recover Huge Disk Space
Delete duplicate music files to get rid of annoying storage space issues on your Mac.
Free Download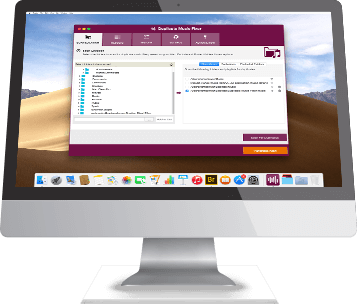 Duplicate Music Fixer
Effortlessly remove duplicate audio files
Duplicate Music Fixer find duplicate audio files and manage your music collection. This nifty tool will help organize your collection like never before!