One-Click Windows Software Updater
Systweak Software Updater thoroughly scans your PC for outdated software and apps to automatically
find and install genuine and safe updates for them in a single click.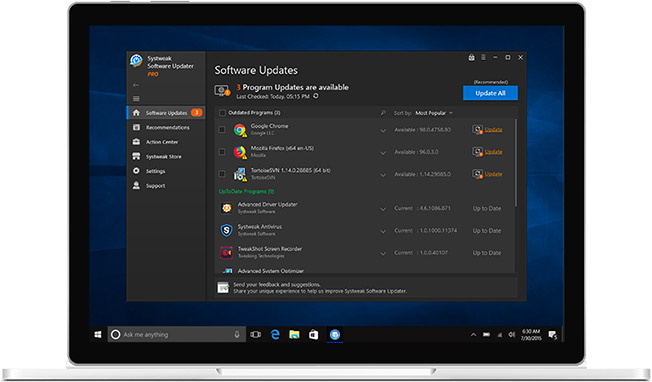 Using this software updater for Windows, you can keep all the installed applications up-to-date on your PC. It ensures that your computer receives the latest and most authentic versions of all the utilities that need immediate attention. The software updater for Windows 11 has a clear & simple dashboard.
What makes Systweak Software Updater Special?
Fully Automatic
Automatically scan, identify, download and update outdated software.
Secure Updates
Never worry about installing malicious software, all thanks to this top software updater.
Fast Download
Powered by highly advanced AI-based algorithms for lightning-fast downloads.
Compatible with Windows 11 & Below
Systweak Software Updater is completely compatible with almost all versions of Windows.
Update Software Automatically In A Few Clicks
Systweak Software Updater has a large database of highly-rated software that can be
downloaded and installed on your Windows PC in a few clicks.
The Windows software updater has a crowdsourced repository of the most popular applications. It also has a special section for software rated by our skilled in-house reviewers. You can totally rely on Systweak Software Updater for updating all outdated software and applications on your Windows in one place.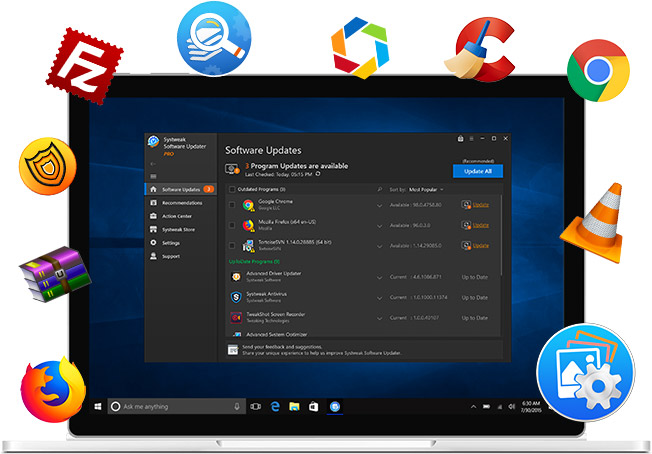 Key Benefits of Systweak Software Updater
Systweak Software Updater improves the performance of your PC and secures it by updating all software to its latest versions.
This ensures you enjoy all new features and protects you from unpatched vulnerabilities.
One-Click Updates
All software on your Windows PC can be updated in a single click without manual effort.
Easy to Restore
Automatically creates a restore point before the update, making it easy to revert changes.
Update All Your Software
The software updater for Windows has a huge list of apps and programs with constant updates.
One-Time Setup
Set up automatic update scheduler and leave the updating to Systweak Software Updater.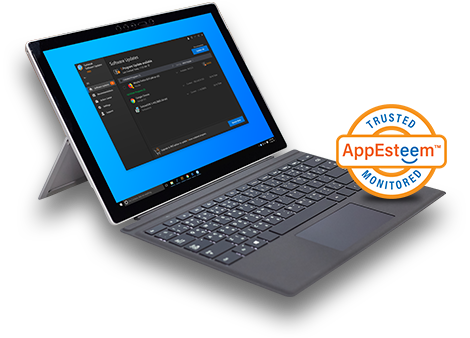 Systweak Software Updater
The easiest way to keep all software updated on your Windows PC!
Easily update software automatically with Systweak Software Updater. It quickly scans your computer for old applications and installs genuine & latest versions effortlessly.