In our previous post, we briefly discussed the modules and terms used in Advanced System Optimizer. In lieu to it in today's post we will understand them in detail and how they are used.
So, without any further delay, let's learn more about them. This will help use the best PC optimizer efficiently.
What is Advanced System Optimizer?
Advanced System Optimizer is an all-in-one system optimization suite comprising many system tune-up modules. These features are intelligently designed to take care of critical problems that usually occur while working on the system.
Download Advanced System Optimizer 
Overview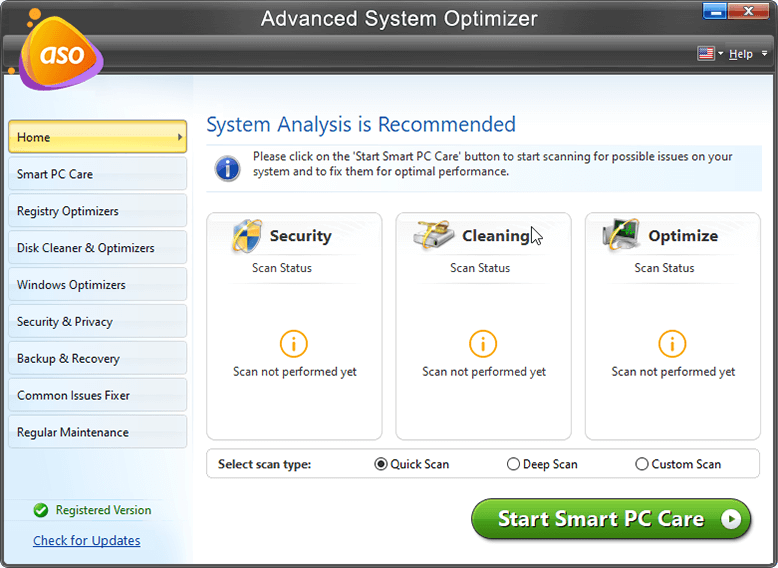 Designed to improve the system's performance and clean junk files, thereby boosting system speed. Advanced System Optimizer has been categorized into 7 broad categories, each category contains more than one tool responsible for a well-defined task. Here we explain each in detail.
Registry Cleaner & Optimizers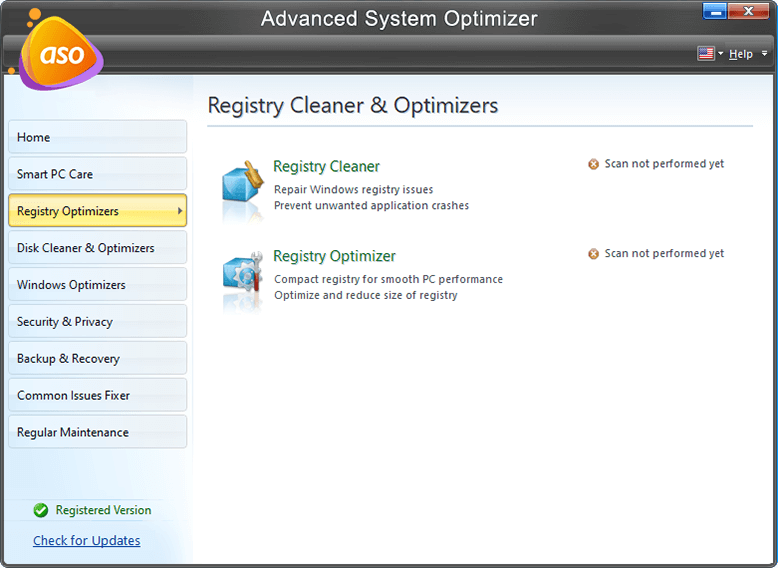 The registry is a vital part of Windows. It stores all the settings and configurations related to the operating system. With its constant use, the Registry floods with many invalid entries linked to references that no longer exist on the system and gets fragmented. These problems might lead to decreased system performance, unexpected runtime errors, and other issues. In such a scenario, both the tools Registry Cleaner and Optimizer come to the rescue.
Registry Cleaner assists in cleaning the invalid and unwanted entries, while Registry Optimizer helps defrag and compact the registry and increase application load time.
Disk Cleaner & Optimizers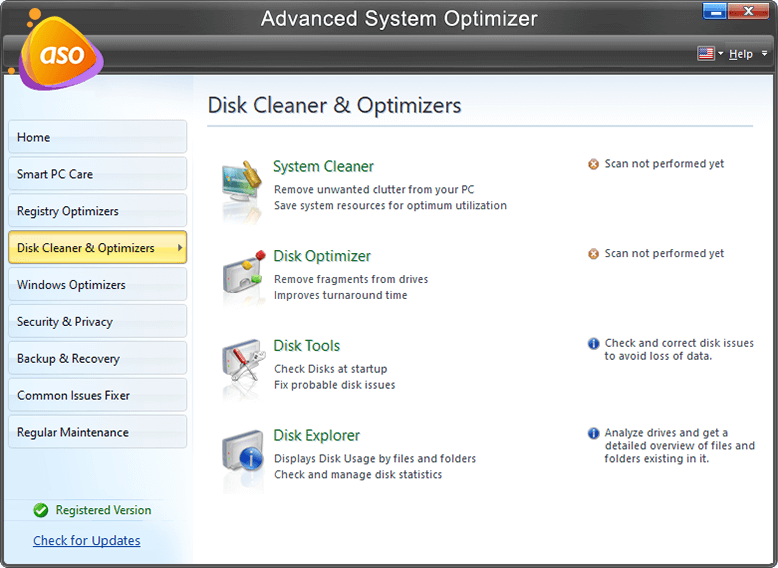 With passing time, the system's hard disk gets fragmented. Random removal of data leaves small parts of space on the hard disk, and large files are stored in these small chunks of available space. Due to this, data reading time increases, and the system response time and performance are adversely affected.
In such cases, Disk Optimizer facilitates faster and simple steps to defragmentation.
The junk files or the unwanted data also consume precious hard disk space. System Cleaner identifies all junk and unneeded data on the system and cleans it effortlessly.
Disk Explorer is a module that helps get a quick overview of the hard disk, and Disk Tools examines the disk for issues at startup, thereby helping disk health.
Windows Optimizer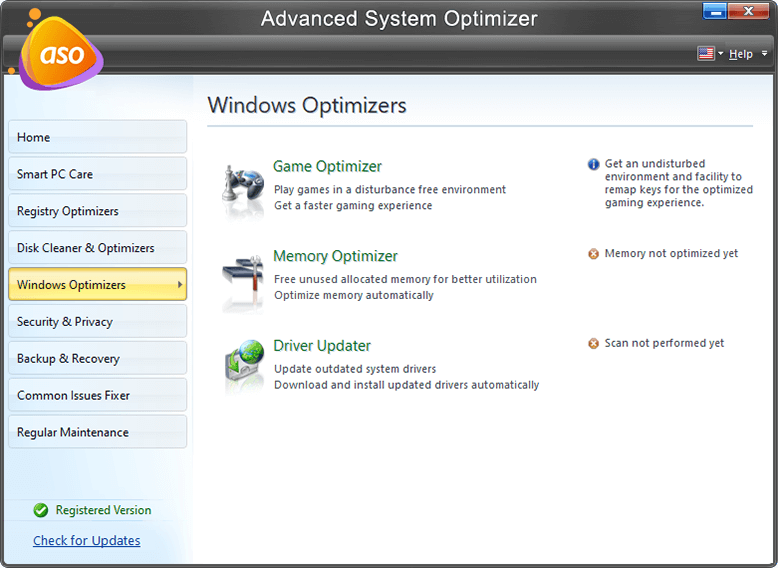 Windows is a priceless gift from Microsoft. But it also needs regular cleaning to stay optimized.
For this, Advanced System Optimizer offers Memory Optimizer, a module that summarizes the processes running on the system and the memory volume consumed by each.
While on the other hand, Game Optimizer is a specific module designed for gamers that let's enjoy interference-free gaming. Moreover, you get a Driver Updater to detect and update outdated drivers.
Security & Privacy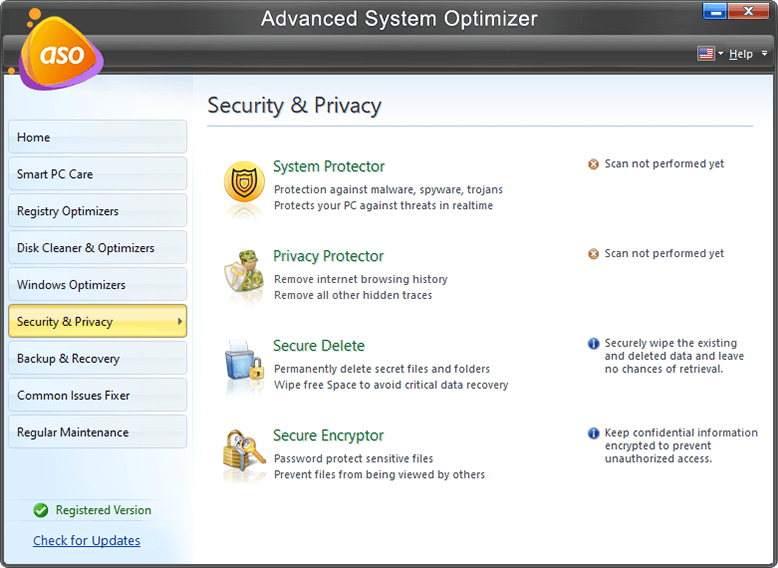 With the advent of software and programs designed with the intention of either spying on your activities or the system, data and information safety has become the utmost priority. Therefore, Advanced System Optimizer offers System Protector, Privacy Protector, Secure Delete, and Secure Encryptor to concentrate on data security.
Almost every one of us spends hours surfing the web, making us vulnerable to attacks. To deal with such malicious threats, Advanced System Optimizer offers System Protector. With the help of this module, you can detect and clean malware, spyware, adware, virus, and other infection.
Privacy Protector is a powerful tool that helps eliminate these privacy-exposing traces.
The deleted files and folders are never permanently removed from the system and can become accessible to any. Removing these files and folders leaving no traces on the system Secure Delete tool can be of major help.
Protecting sensitive files from prying eyes is very important. To secure confidential data, you can use Secure Encryptor to password protect and encrypt data.
Backup & Recovery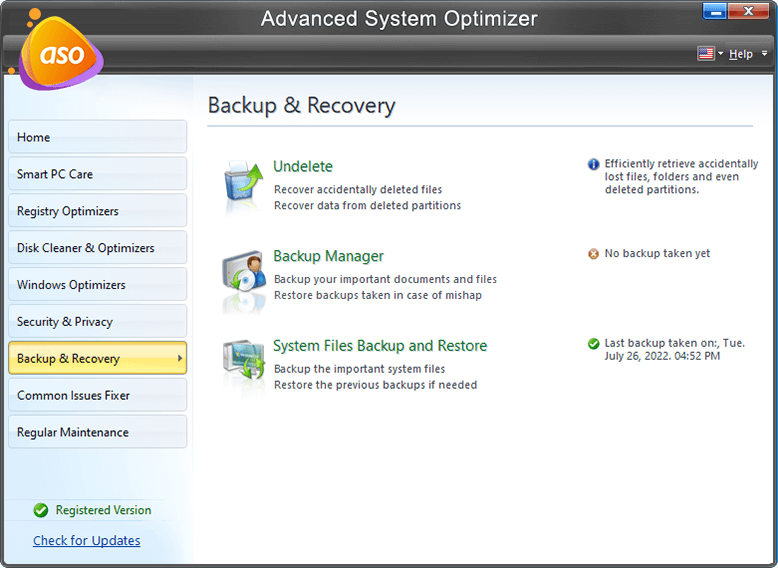 This category contains tools to recover data and take backups of system files, personal data, and other important data.
Undelete helps retrieve lost or accidentally deleted data from PC.
Backup Manager keeping the backup of the system file had become inevitable. In case of system failure or installation of bad software, the system can be reverted to the last configuration.
System Files Backup and Restore helps take the backup of system files and keep it safely placed in a user-defined location on the system from where they can be restored if deemed necessary.
Common Issues Fixer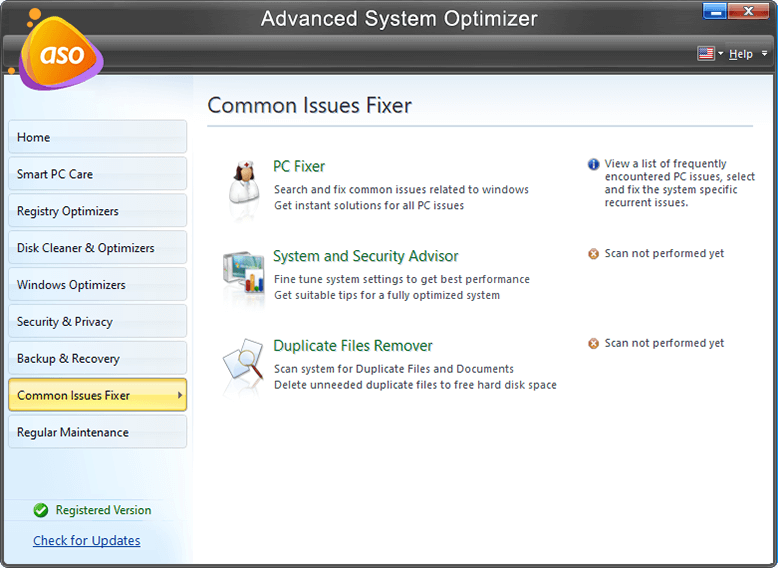 The tools in this category solve the common problems that occur in day-to-day life.
PC Fixer provides a list of common problems with their apt solutions, which will help get a faster and a smooth PC to work on.
System and Security Advisor logically scans the system and finds the loopholes that are pulling down the system's performance and may breach the security. There are a few safe fixes given in this tool to attain the optimum level of security and performance.
Duplicate files on the system created due to human errors may occupy precious hard disk space, and their removal should be prioritized. Manually it is possible but will be time-consuming and cumbersome. Duplicate File Remover  facilitates this task in a few very easy steps and helps reclaim valuable space on the disk.
Regular Maintenance
For regular tune-up and maintenance, three tools have been included in this category.
Driver Updater finds outdated drivers and helps update them to the latest version.
Startup Manager helps manage programs that start with Windows startup.
Uninstall Manager helps remove unwanted programs and all the corresponding files from the system.
Scheduler aims to make your job easy. It starts the desired scans at the scheduled time. This helps stay worry-free and accomplish the tasks on time.
We hope this explanation helps you understand the cleanup utility better and that you can use it to optimize the system. If you have any questions regarding the system optimizer and maintenance tool, feel free to email support@systweak.com.
Do share your feedback and suggestions in the comments section.