Trusted by millions Advanced System Optimizer – The PC RAM cleaner is now available.
Designed by Systweak to boost PC speed and give your system a new life by removing invalid registry entries, optimizing disk, deleting duplicate files, junk files, and other issues that might slow system performance – Advanced System Optimizer is now available.
Compatible with Windows 10,8,7, and XP, Advanced System Optimizer is a lightweight app that downloads and installs quickly. Its attractive new interface is designed for ease of use – the left pane lists all the modules using which you can perform PC Optimization.
Priced at $39.95, this trusted utility is now available. Wondering, what it has to offer? Should you use it or not?
Well, to clear your doubts here's a quick review of the product. In addition to this, soon we will explain each of its modules in detail and how to use them. This will help understand the product in a better way.
Quick Summary – Advanced System Optimizer – Best PC Cleaner Software
Made up of 7 distinct tools, including a registry cleaner, registry optimizer, disk cleaner, optimizer, duplicate file cleaner, privacy protector, backup tool, uninstall manager, startup manager, secure deletion tool, and more, Advanced System Optimizer is light on system resources and easy to use.
As you read the review, you will see this  PC optimizer is intelligently designed. During the test, I was able to clean more than 6GB of unwanted files and remove thousands of duplicate photos. Designed for users looking for an automatic solution to keep their PC optimized, Advanced System Optimizer integrates many existing Windows tools and offers a clean interface, allowing beginners to perform a necessary computer maintenance task.
Benefits Advanced System Optimizer – PC Optimizer
Uninstall unwanted programs without leaving any leftovers.
Cleans invalid registry entries.
Optimize registry.
Defrag hard disk.
Detect and delete stored duplicate files.
Optimize memory.
Schedule regular maintenance
Manage startup items and do a lot more.
| | |
| --- | --- |
| Advantages | Disadvantages |
| The biggest advantage the PC cleaner is available for use | No security tool available |
| Users can recover gigabytes of space in a few clicks | No option to resume Smart PC Care scan |
| Easy to use interface makes PC optimization easy | |
| Secure Delete to shred deleted files permanently | |
| Secure Encryptor to protect files using a password | |
 How To use Advanced System Optimizer
Clean & Optimize your PC in 3 Easy Steps.
1. Download and install Advanced System Optimizer, a PC junk cleaner.
2. Run the computer cleaner to find what might be slowing down the system's performance.
Note: Advanced System Optimizer offers 3 scan types –
Quick – scans critical areas of the system to improve system speed and clean junk files
Deep – thoroughly scans the system, folders, subfolder for errors and issues that might be slowing down system performance.
Custom – gives users complete freedom to select the area to scan and fix errors.
You can select any option from the home screen to scan the system and boost system speed.
3. Wait for the scan to finish.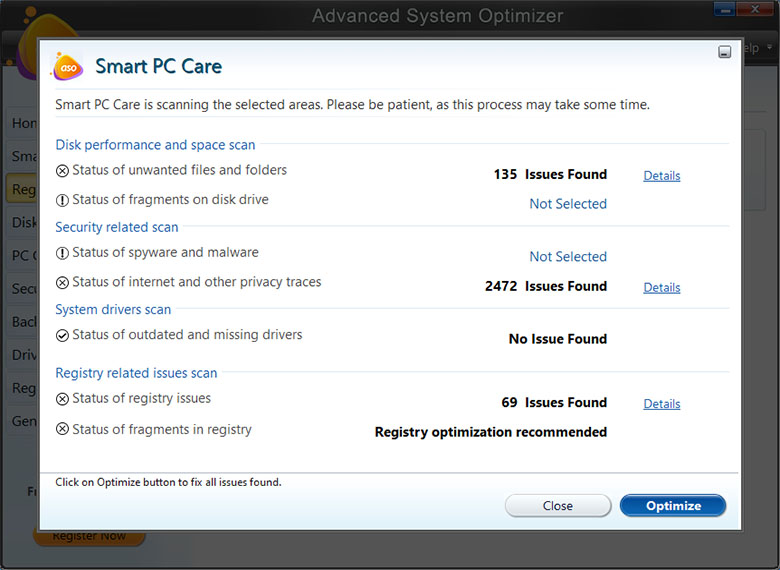 4. Click Optimize to fix all detected errors
5. Restart the system to apply changes.
You'll now experience enhanced PC performance and will also see a good amount of storage space recovered.
Why use Advanced System Optimizer?
Whether bothered by a slow and sluggish PC performance or want to delete junk files, unwanted data or recover storage space. Whatever the case be, Advanced System Optimizer the PC cleaner will help in everything.
This all-in-one PC cleaner and speed booster help clean RAM, optimizer gaming performance, uninstall unwanted files, schedule cleaning, and do a lot more.
The main attraction of this utility is its Smart PC Care or can say one-click care that allows a scanning system for all unnecessary files, privacy exposing traces, registry fragments, and issues in one click. Using it in no time, you can give your PC a new life and keep it clean to increase productivity.
Nonetheless, you can use Backup Manager to take a backup of important files and securely delete files making them unrecoverable even when using disk recovery tools.
Hope this answers why you should use the computer cleaner and junk cleaner for PCs.
Is Advanced System Optimizer ?
Yes, it is now available, and you can use it without any time limit or feature restrictions. Using the RAM optimizer and speed booster you can free up storage space, optimize game performance, clean junk files, cache, cookies, and so on.
Is Advanced System Optimizer Safe?
Yes, it is. Trusted by millions globally this PC cleaning software is safe to use. Also, I downloaded the program from the official website on 3 of my machines and it worked fine. None of my security tools flagged anything suspicious neither I faced any compatibility issues.
Advanced System Optimizer is safe to use, and it does not delete anything important from the PC. It allows users to view scan details and decide whether to perform cleaning or not.
Moreover, when the tool is installed it creates a system restore point, this is an amazing feature and I fail to find it in other competitors. This gave me satisfaction and I was able to use the tool without any worry.
Conclusion
Overall, if you are looking for an all-in-one PC cleaning and optimization tool this is the right tool. You cannot go wrong with Advanced System Optimizer offered by Systweak.
From cleaning junk files to improving boot time to finding and deleting duplicate files, shredding deleting files, scheduling PC maintenance, cleaning invalid registry entries, optimizing disk, and more, this tool can perform anything. This easy-to-use RAM cleaner even helps boost gaming performance and is useful for both beginners and advanced users.
We hope you will give this PC cleaner for Windows 10 a try. Do share your feedback in the comments section. If you have any questions about the product feel free to contact at support@systweak.com.
Recommended-