No one likes using a slow and sluggish PC as it decreases productivity. But overtime as we use the system, its speed and performance decline. If you can relate with what I am saying, you are at the right place.
Today, in this post we will explain why using a PC cleaning software is recommended and how it helps.
Why use Advanced System Optimizer?
Advanced System Optimizer as the name infers is an all-in-one system optimization tool that helps speed up, clean and protect your system from threats. Using this professional PC cleaner tool you can recover deleted files, backup important data, update drivers, clean junk files and do a lot more. The tool offers different system tweaking tools that help boost system performance.
Using this amazing tool in one shot you can fix major Windows-related problems, get rid of unwanted startup items, obsolete data, and more.
The most interesting feature of this tool is "Smart PC Care," using which, in just one click you can perform basic PC cleaning tasks.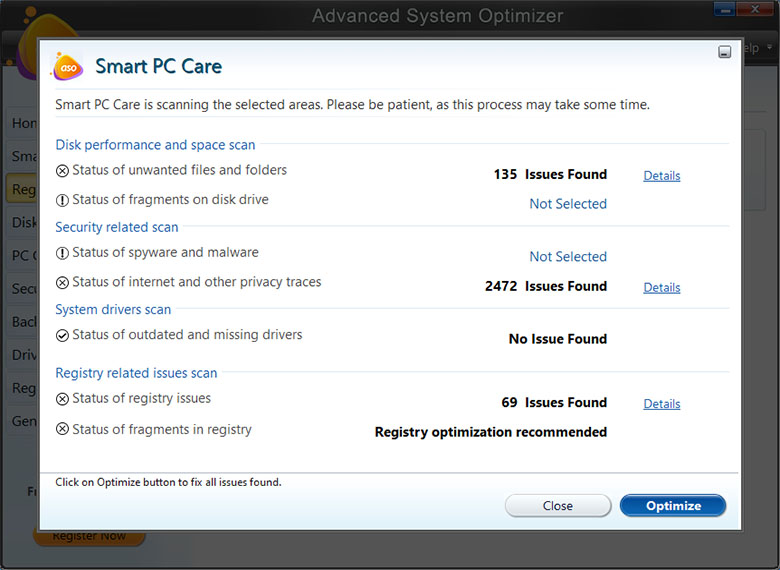 Need of a PC Cleaning Software
With the increase in the number of electronic devices, our dependency on them is increasing, and this makes working at a snail's pace almost unaffordable. But the decrease in the system's performance over time is inevitable, and we end up encountering the following issues:
Slow and slugging PC performance.
Applications take a longer time to load.
Unresponsive s
Frequent system hang-ups and crashes.
Constant decline in systems performance.
This is when system optimization and PC cleaning software comes to play. These tools are recommended for regular maintenance and to restore performance. Using them you can keep the system in better shape and condition. If maintenance is overlooked, the intelligent machine can break down and its recovery can become very expensive.
Besides, performance-related issues, there are several occasions when we need a RAM booster, junk file cleaner, a mechanism that helps keep the system protected against spyware, malware infections, and whatnot. To achieve all this, switching over to resourceful settings is a must, but there is no means to detect these problems logically.
Certainly, Windows offers built-in tools to resolve common problems but for a novice using them isn't easy. Hence, a PC cleaner like Advanced System Optimizer is recommended. Using it, all Windows performance-related issues can be resolved.
Designed by Systweak,  Advanced System Optimizer is a professional and excellent system optimization tool. To enhance performance, it offers a wide range of tools and each category is intelligently designed. Moreover, every module is defined to perform a unique set of operations. This means, as per the user's requirement and preference, the suitable module can be picked and used to get the desired results.
Furthermore, user can select from three scan types –
Quick Scan – as the name suggests this scan type is quick and it looks for unwanted files, cleans hidden privacy exposing traces, fixes registry issues, & optimizes the registry.
Deep Scan – this scan type is thorough and in-depth thus is time-consuming. We recommend using it when the system is in an ideal state.
Custom Scan – gives complete control to the user. This means the user can decide which area to be scanned for errors and which to be left.
In addition to this, it offers one click optimization known as Smart PC Care, using which in one click you can fix common Windows issues.
What is Smart PC Care?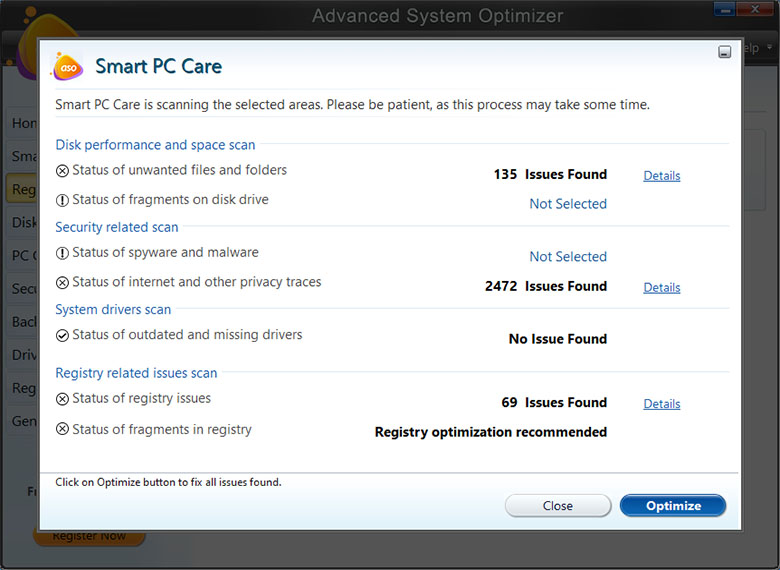 For ease of users, the Smart PC Care feature has been incorporated in Advanced System Optimizer. Using it in a single mouse click, 5 very important tasks can be carried out. This means, instead of running each module individually and fixing errors one by one, you can easily scan the system for errors in one click and wipe out all errors instantly.
To run these modules you can select the scan type and decide what kind of scanning you want. Smart PC Care includes junk file scanning, Registry scan, disk defragmentation, privacy scan, and registry optimizer.
You may include or exclude modules from Smart PC Care and run any number of scans starting from 1 to 5 on the system simultaneously.
The errors detected are listed separately for each module. You can either remove all of them together from the system or erase a group of errors under any module as per the need and convenience. This makes Advanced System Optimizer a smartly designed PC cleaner and optimizer for Windows.
Modules Included in Smart PC Care
Junk File Cleaner – Assists in cleaning of accumulated junk files on the system.
Disk Defragger – Defrags fragmented disk for better storage efficiency.
Privacy Protector – Identifies and removes all online privacy exposing traces from the system.
Registry Cleaner – Remove invalid entries that create problems and clutter the system from Windows Registry.
Registry Optimizer – Defrags and optimizes the registry for uninterrupted PC performance.
How Registry Cleaner & Optimizer Help?

Registry Cleaner and optimizer helps clean invalid registry entries and optimize registry, commonly responsible for Windows errors and slowing down system performance.
Registry Cleaner – Cleans invalid and unwanted registry entries from Windows Registry
Registry Optimizer – Defrags the Registry and creates a new compact Registry free from gaps and fragments.
Why Use Disk Cleaner & Optimizers?
System Cleaner – Helps remove the junk and obsolete data from the system thereby saving precious disk space.
Disk Optimizer – Defrags the Hard Disk and delivers contiguous space for better storage and improved data access time.
Disk Tools – Examines the disk thoroughly and displays detailed information of the desired disks.
Disk Explorer – Helps view the complete details of the existing files and folders in one glance.
How Windows Optimizers Help?

Two modules added to Windows Optimizers help free up memory and boost gaming performance. Using them you can enjoy gaming and also have enough free RAM.
Game Optimizer – Provides a disturbance-free environment to play games and enjoy interference-free gaming.
Memory Optimizer – Recovers memory within minutes without affecting stability.
What Does Security & Privacy Module Offer?

Privacy Protector – Erases all traces of Internet activities from the system and helps maintain privacy.
Secure Delete – Safely deletes the data from the system permanently making data recovery almost impossible.
Secure Encryptor – A simple utility to protect confidential and valuable data in an encrypted manner.
What Backup & Recovery Offers?

Backup Manager – Facilitates backups of important files and folders
System Files Backup and Restore – Help take system backup and revert back to any last known good configuration.
What Common Issues Fixer Offer?

PC Fixer –Provides a list of common Windows related issues with the necessary advice to enhance system performance.
System and Security Advisor – Logically analyzes the system and gives performance and security-related tips.
Duplicate File Remover – Finds and removes duplicate files on the system and frees the valuable storage space.
How Regular Maintenance Help?

Startup Manager – Manages startup programs to boost system boot time.
Uninstall Manager – Help uninstall unwanted programs completely leaving no traces behind.
Scheduler – Helps perform tasks at predefined day and time without manual intervention.
So, this all about Advanced System Optimizer and its modules. You can use any of them as per your requirement and tune your PC for better performance. We hope you will give this best PC Optimizer a try.
If you have any questions related to the product send an email to support@systweak.com.