Want to stay digitally secure? Update Windows 10, installed software and drivers now.
We all know to stay protected from attacks, it's important to keep Windows and installed software updated. Yet, when we get the message, a software update is available we are tempted to cancel it, instead of installing it. Does this sound familiar?
Truth be told, we think updating Windows software will be time-consuming or is not required. But this is where we are wrong, as failing to update Windows and installed applications give hackers the leverage to install malware, virus, and other nasty infections. The sooner we update Windows 10 and Windows software, the more secure we will be. Moreover, updating software and Windows patches security vulnerabilities, provides bug fixes, performance improvements, and more.
The bottom line is, we should always keep Windows software updated. But how can we do it without missing a single update?
Though Windows does not provide an automatic way to do it, we will have to use a third-party software updater for Windows. Luckily, there's one and it is called Systweak Software Updater.
What is Systweak Software Updater?
As the name suggests, Systweak Software Updater is a tool offered by Systweak that helps updating Windows software. Using it in no time, you can install genuine and safe software updates. This professional software updater for Windows identifies outdated software with available updates and helps to download and install them. Not just this, from a single dashboard, you can update all installed Window software at once.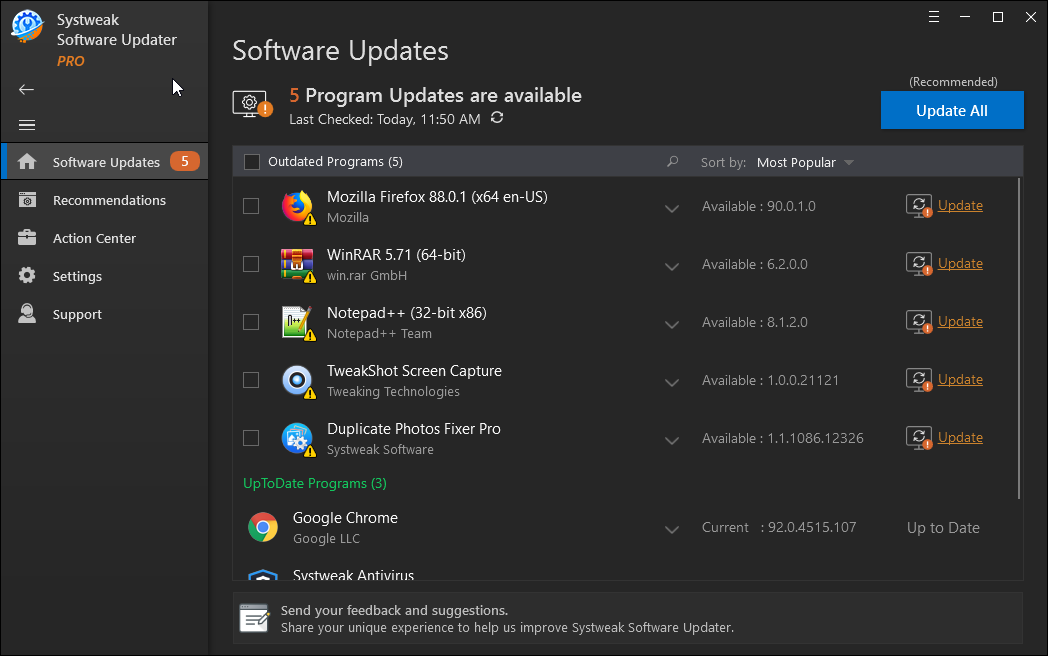 In addition to this, this Software Updater also gives options like :
Create daily restore point before installing a program
Automatically delete installed program setup to recover space
Different themes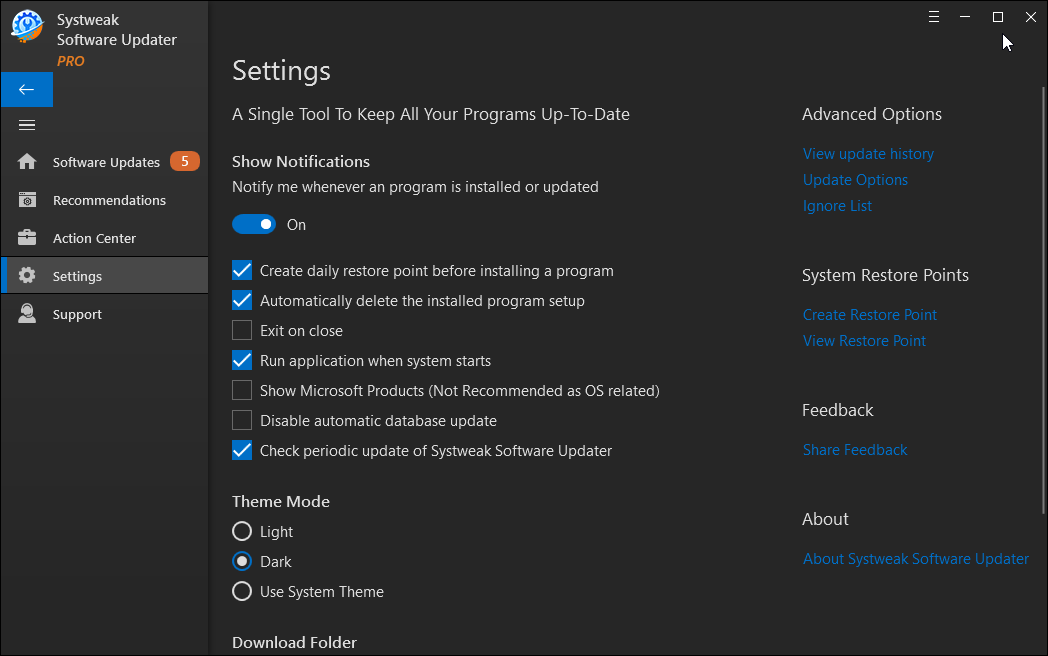 View update history
Update options to schedule program updates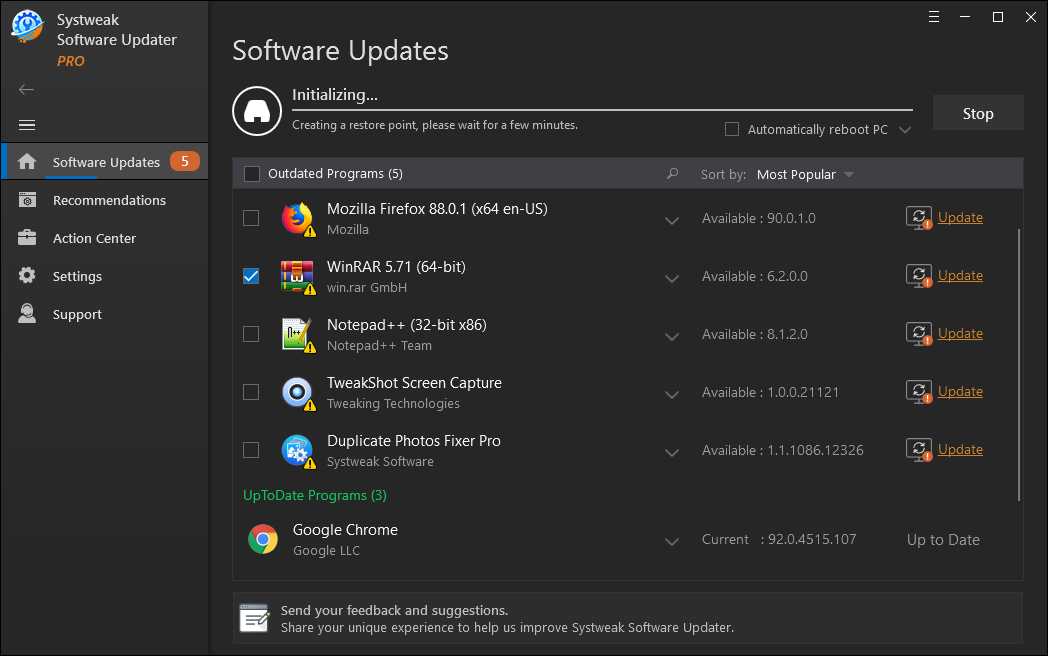 Ignore List to add specific program and avoid them from being updated
Recommendation section to get popular software on Windows without any problem.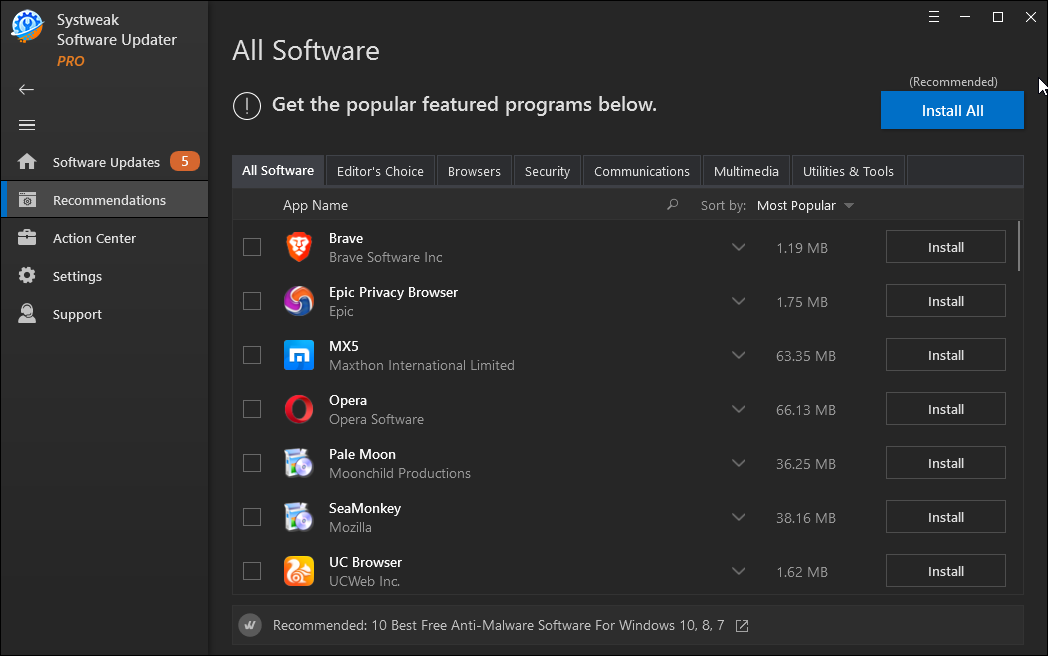 Now that we know what Systweak Software Updater – software updater for Windows can do, let's learn why software updates are important.
Benefits of updating software using software updater for Windows 10

Repairs security weaknesses
Adds new features
Protects data from cybercriminals
Gives additional program functionality
Improves system and software stability
Keep hardware healthy
Enhanced and modern user interface
How Systweak Software Updater Work and Helps Download Software Updates?
To use Systweak Software Updater and update installed software, follow these steps:
Important:
Before installing a program by default Systweak Software Updater creates a restore point and also gives the user an option to create and view Systweak Restore point.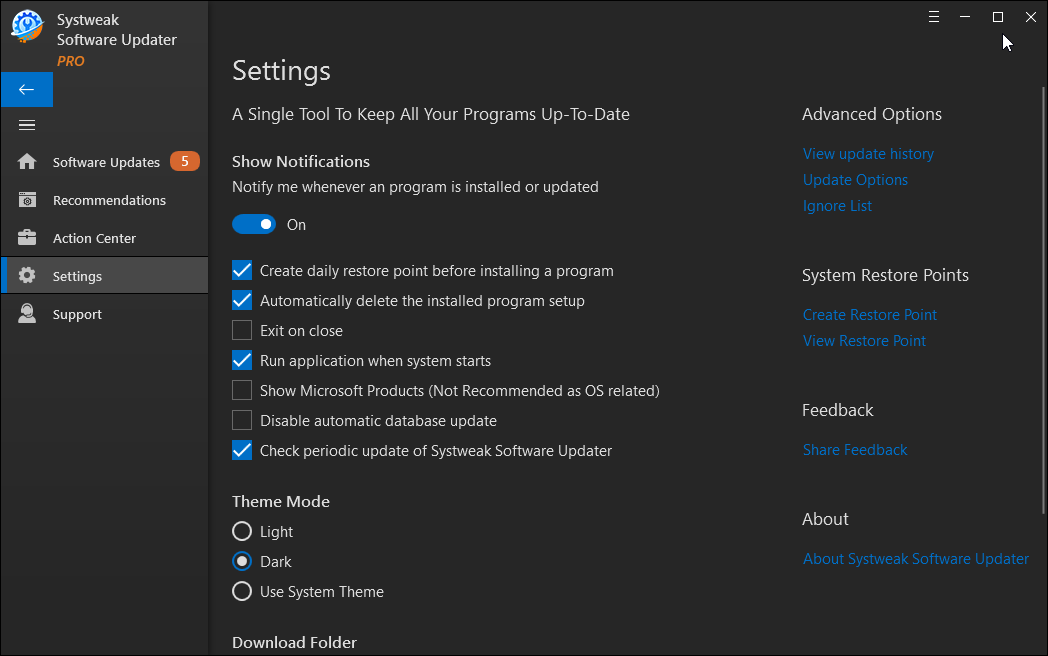 Now, let's see how to use this amazing software update on Windows.
1. Download and install Systweak Software Updater
2. Run the intelligent software update for Windows
3. Wait for it to scan the system for installed applications.
4. You will now get a list of all installed software, divided into two sections Outdated Programs and UpToDate Programs.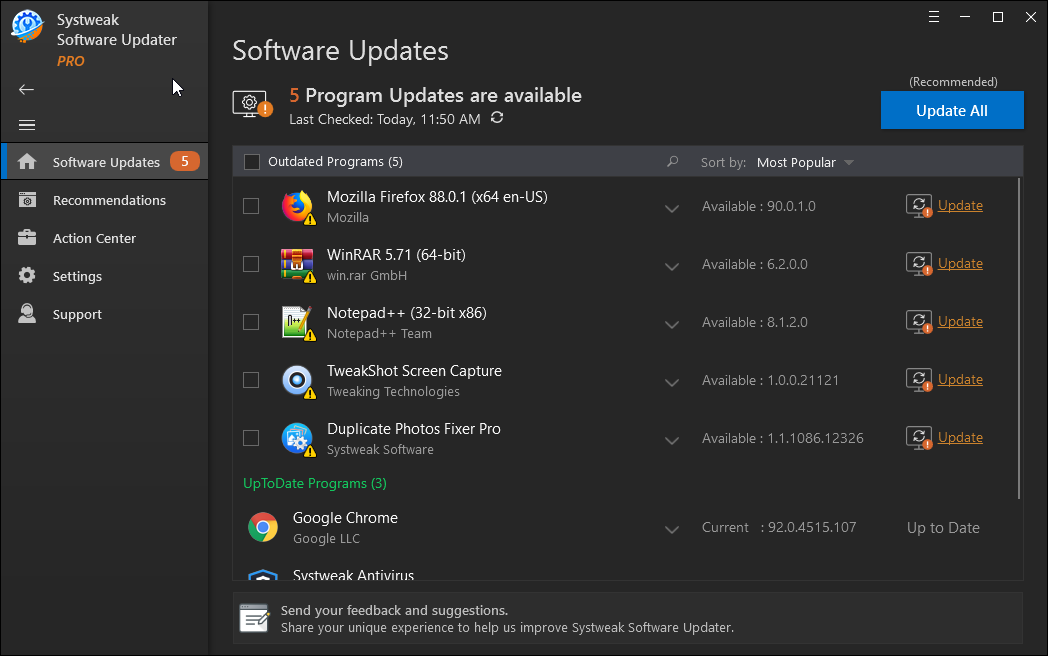 5. To update the outdated software click Update next to each application. However, if you are using the Pro version can use the Update All button to update all outdated software in one click.
6. Wait for the process to finish.
7. Restart the system to apply changes. This will update all outdated programs.
Using these quick steps in no you can download software updates and can patch all security weaknesses. Moreover, you will be able to enjoy improved PC performance.
But there's a catch: using it you cannot update Windows. To do that you will have to follow the steps below:
How To Update Windows 10?
To keep your Windows up and running without any problem, you must keep it updated. To manage your Windows 10 update option and see if any updates are available follow the steps below:
Press Windows + I to open Windows settings.
Click Update & Security
Hit Windows Update from the left pane > Check for updates
Wait for Windows to look for updates. Make sure you have an active internet connection
If an update will be available you will get the Download and install option. Click it to update Windows.
Wait for the process to finish and restart the PC to apply Windows update.
That's it using these simple steps, you can update Windows to the latest version.
How Does Software Updater help?
Since we know Windows does not offer functionality to update software, to keep ourselves protected from threats, we need to update software using software updater for Windows 10.
The easiest way to do so is to use Systweak Software Updater. Using this tool in just one click, we can patch security vulnerabilities and install software updates.
Moreover, a software updater for Windows lets know which applications are running on the system. This means we can identify unknown applications and can uninstall them thereby reclaiming storage space.
This way we can improve user experience and avoid being interrupted by reminders that pop up while we are working.
We hope you find this information and the post helpful. Do share your feedback with us. If you have any suggestions leave us a comment. For any product-related questions feel free to contact our support team at support@systweak.com.